Here's a guide to understanding the various data points available within our customized unpaid compensation reports.
A) The card or button shows the total amount of unpaid compensation, which is listed in the report.
B) Invoice Number - Click on the invoice number for details
C) Sales from - This column shows the dates when the unpaid compensation was earned. As an example, you can use this date to match up the unpaid compensation amount for sales in the Classic Reporting for Print Sales.
D) Description - Lists the market where compensation was earned.
E) Your Compensation - Unpaid compensation you have earned.
F) Compensation Date - The date we process the compensation payment.
G) Currency - Currency your compensation earnings will be paid to you.
H) Unpaid compensation report screen display explained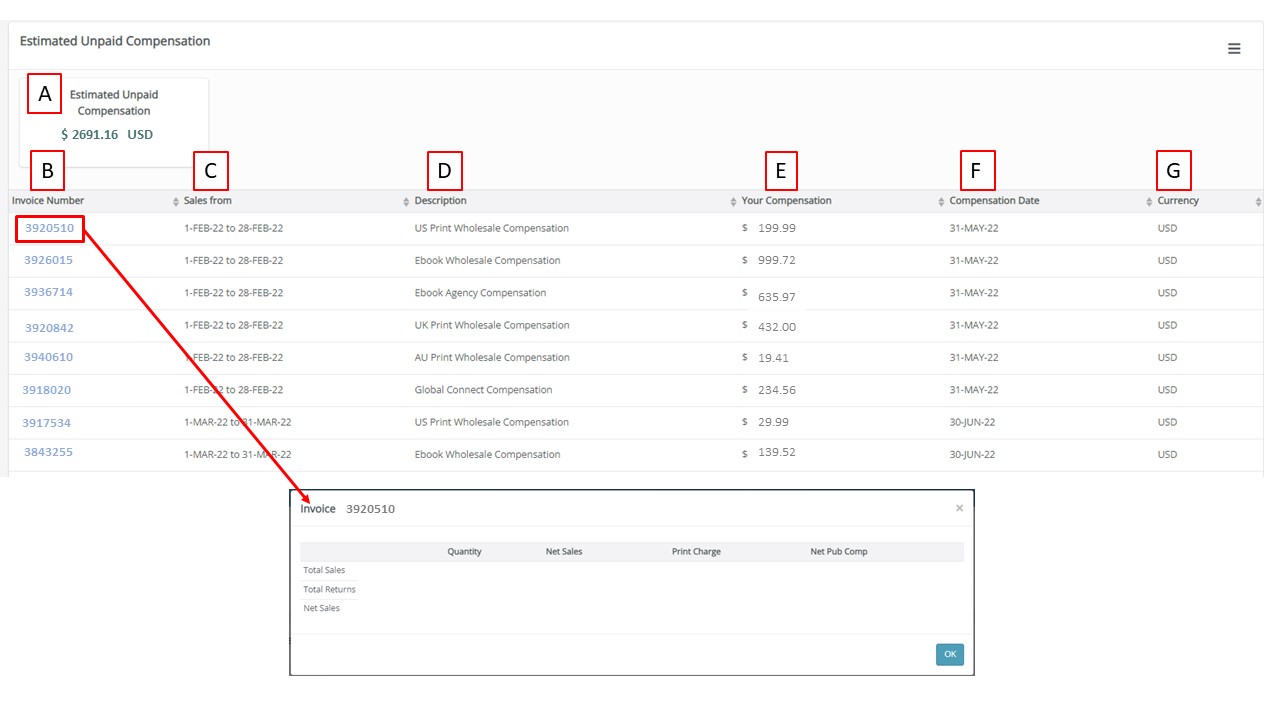 H) In the new reporting, click on Compensation and scroll down to Estimated Unpaid Compensation to view the report online. In the image below, there are 3 buttons:
Estimated Total Unpaid Compensation (for sales in all markets displayed) This is the estimated total of unpaid compensation for sales in July, to be paid in October.
Estimated US Unpaid Compensation (for sales in the US market)
Estimated Total Unpaid Compensation (for sales in the UK market)
Below the 3 buttons are the total amounts of units sold, net sales, print charge deducted, tax that was deducted, other charges deducted, and net pub comp estimated to be paid in October, in US dollars.
To understand what tax is being charged, you can click on Customize Report and then click on Expanded Title Detail. This report will show the details of books sold and charges and fees that are deducted from the estimated compensation earnings.
The "Tax" column below shows taxes charged for books sold in other countries where VAT is collected. On the UK report, there will be a column for VAT for taxes deducted for sales where VAT is charged. The VAT charge on the UK report will be listed as GBP and will be converted to US dollars in the report shown below.
The "Other Charges" column below is where you will see the 1% global distribution fee for print books sold. The amount on the report below is the 1% fee charged for sales in the US and UK. This is listed in detail for each book sold, on the Expanded Title Detail report, which is the same report you receive by email at the beginning of the month the compensation earnings are paid.