With the Full Metadata Export reporting, you can download all the metadata for your books, including pricing!
This report details the metadata being sent to retailers and allows you to review the metadata for all of your titles.
From the left side navigation, click on Titles to access this report.
The "Download Report" button downloads a stock version of the report with all of the data points.
The "Download Custom Report" allows you to select the data points you want in the report and in the order you want to view them.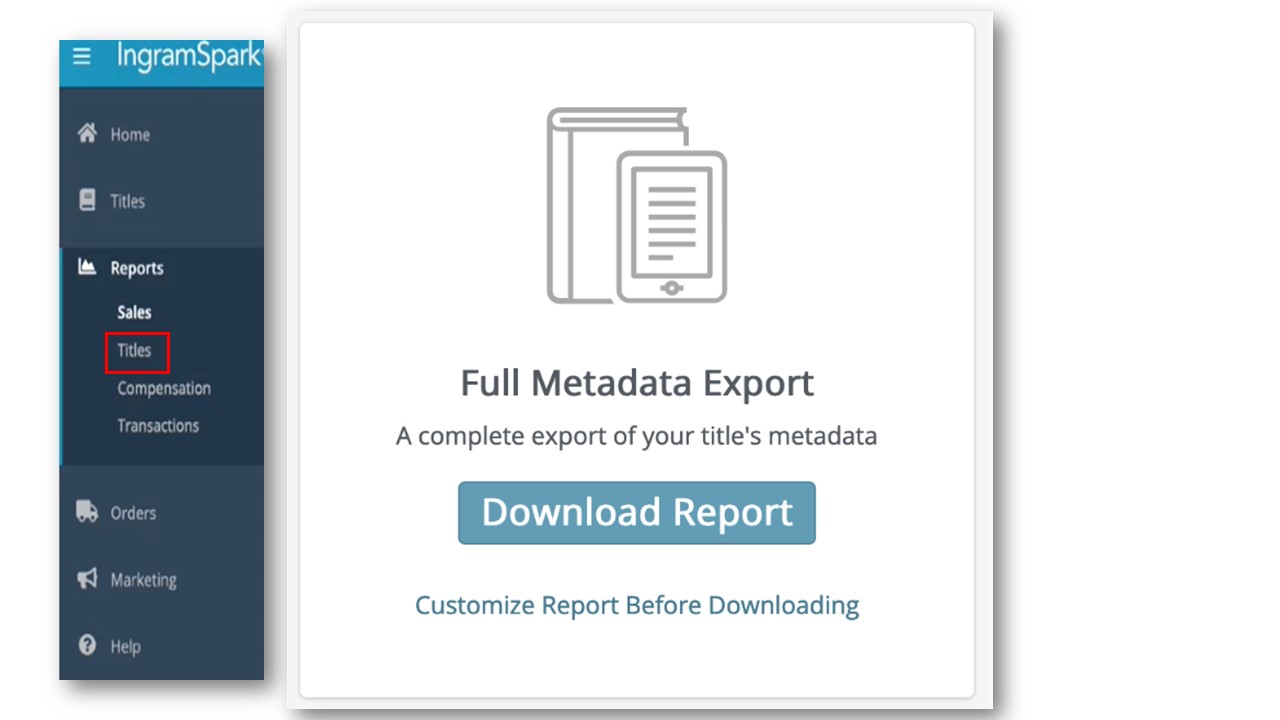 The following is a description of what you will find in each column of the report:
COLUMN & DESCRIPTION
A = Title
B = ISBN or SKU
C = Status of the Title
D = Format (type of binding)
E = Language
F = Series Name
G = Series Number
H = Edition Name
I = Edition Number
J, K, L = Contributor 1, 2, 3
M, N, O = Contributor Role 1, 2, 3
P, Q, R = Contributor Bio 1, 2, 3
S, T, U = BISAC 1, 2, 3 (Subject Category Code)
V, W, X = BISAC Description 1, 2, 3 (Subject Category)
Y =Imprint (publishing company name)
Z = Audience
AA = Regional Subject
AB = Thema
AC = Table of Contents
AD = Review Quotes
AE = Full Description
AF = Short Description
AG = Keywords
AH = Book Type (Trim Size, BW or Color Interior, Binding Type, Paper, & Cover Laminate)
AI = Page Count
AJ = Look Inside Feature (used for Amazon and other possible websites)
AK = Large Text (A book that is published as Large Print or Large Text)
AL = Right to Left Binding
AM = Publication Date
AN = Street Date (On Sale Date)
AO = US List (United States)
AP = UK List (United Kingdom)
AQ = CA List (Canada)
AR = EU List (Europe)
AS = AU List (Australia)
AT = US Discount (United States)
AU = UK Discount (United Kingdom)
AV = CA Discount (Canada)
AW = EU Discount (Europe)
AX = AU Discount (Australia)
AY = US Returns (United States)
AZ = UK Returns (United Kingdom)
BA = CA Returns (Canada)
BB = EU Returns (Europe)
BC = AU Returns (Australia)
BD = IN List (India)
BE = RU List (Russia)
BF = SP List (Spain)
BG = SK List (South Korea)
BH = DE List (Germany)
BI = BR List (Brazil)
BJ = JP List (Japan)
BK = IT List (Italy)
BL = CH List (China)
BM = PL List (Poland)
BN = IN Discount (India)
BO = RU Discount (Russia)
BP = SP Discount (Spain)
BQ = SK Discount (South Korea)
BR = DE Discount (Germany)
BS = BR Discount (Brazil)
BT = JP Discount (Japan)
BU = IT Discount (Italy)
BV = CH Discount (China)
BW = PL Discount (Poland)
BX = US Agency (United States)
BY = UK Agency (United Kingdom)
BZ = CA Agency (Canada)
CA = EU Agency (Europe)
CB = AU Agency (Australia)
CC = US Library (United States)
CD = UK Library (United Kingdom)
CE = CA Library (Canada)
CF = EU Library (Europe)
CG = AU Library (Australia)
CH = Distribution Y/N
CI = Publisher Account Number
CJ = Publisher Name
Click the FOLLOW button to be alerted to updates to this article.