From the Reporting Dashboard, click on the image for Your Account Print Bestsellers or Your Account Ebook Bestsellers, shown below, to view your Bestselling titles.
In the images below, the top 3 bestselling titles have either a gold, silver, or bronze designation, for YOUR account only.
If you have more than 1 bestselling title with the same sales, you could see more than 1 title with one of these stars.
With this new reporting, print titles sold through Ingram's Global Distribution network are registered in the report in your account when the order is received by Lightning Source for printing. Ebook sales are registered in a different time frame and are described further below.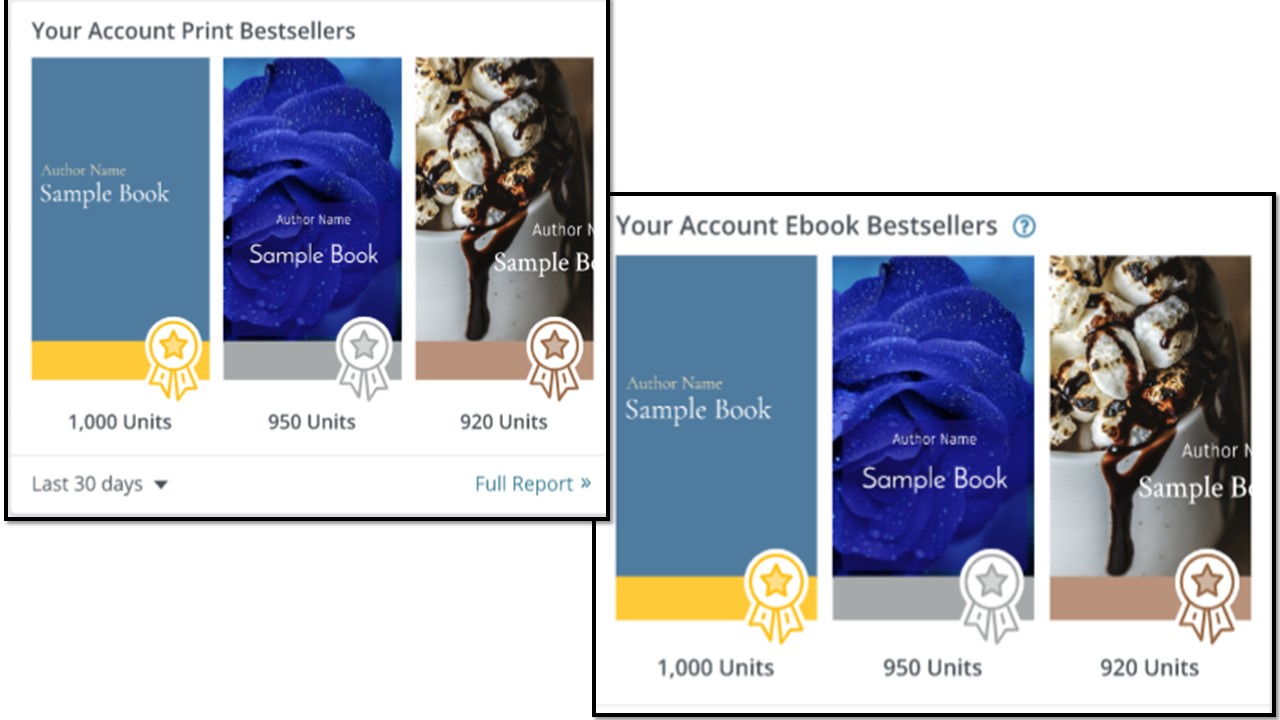 In the report image below:
A) The top 3 bestselling titles have either a gold, silver, or bronze star. If you have more than 1 bestselling with the same sales, you could see more than 1 title with one of these stars.
B) Report displays all print titles listed in the account and will appear in descending order by unit sales for the selected date range.
C) You can see where your title ranks in sales among all the IngramSpark titles.
D) This report can be downloaded to An XLS or CVS format report or customized.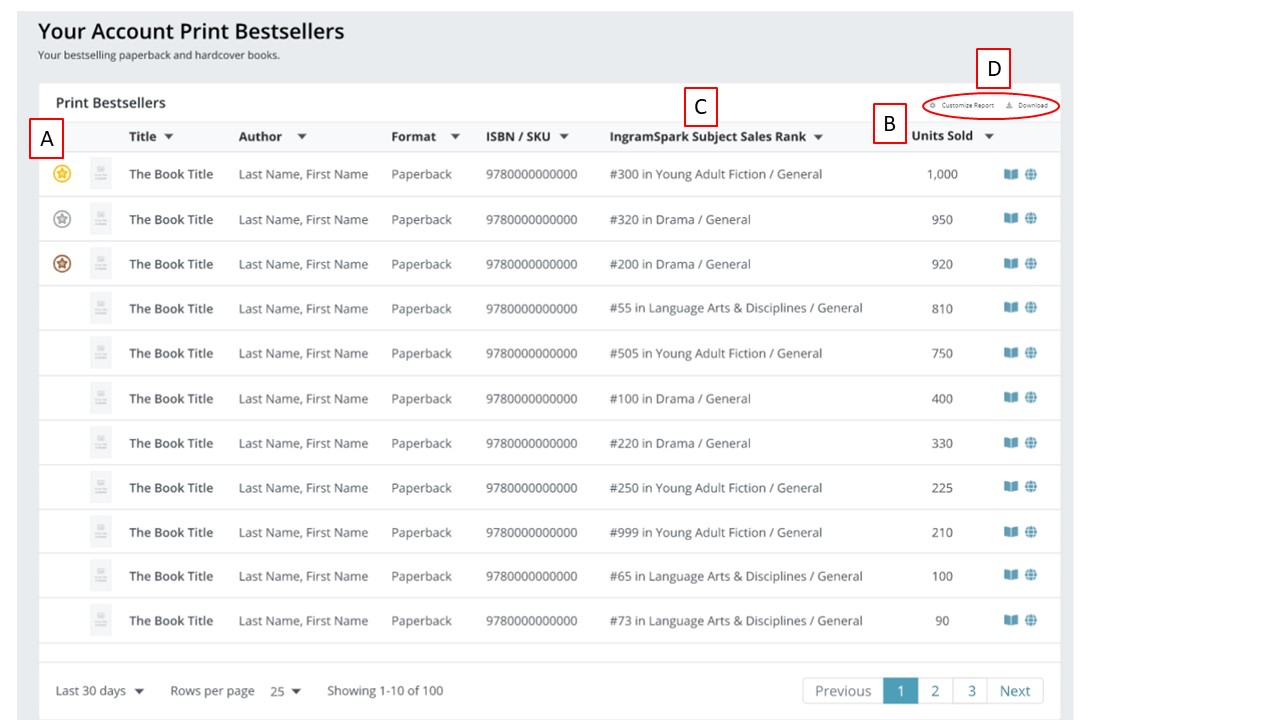 IMPORTANT NOTE: As part of our reporting redesign, we have completely overhauled how we report sales data to you. The sales data you receive in the new reporting is more up-to-date than ever.
The classic sales reporting did not display sales until 24-48 hours after a distribution order had been printed, shipped, and was completely closed out of our system. The new sales reporting displays sales within 24-48 hours after we receive the order from a retail partner. This means you see your sales reported closer to the date of the transaction.
Here's an example:
We received a wholesale/distribution order for a book on January 1st (This sale is now available in the New Sales Reports and appeared in the reporting on January 1st)
The order is printed and shipped to the retailer/bookseller on January 5th. (Retailer ship times may vary)
The order is posted to our sales compensation reporting on January 7th (This sale is now visible on the Print Sales Report in the Classic Sales Reports)
The Sales Compensation period is closed on February 1st (The compensation amount is now available in the New Unpaid Sales Compensation section of the Compensation Report)
However, please keep in mind that an order is not considered final until after it has been shipped. Retailers have the option to cancel orders prior to fulfillment, so these cancellations can cause fluctuations between your sales and compensation data.
Ebook Sales Reporting and Compensation
IngramSpark accounts receive 85% of the net revenue received by IngramSpark for every sale of your ebook(s) no matter who the retailer is.
Ebook retailers have 25 days after month end to report ebook sales to Ingram. For this reason, the sales report you receive will be for sales 60 days prior. See the chart below for the payment schedule.
A separate report is generated for Apple (Agency) ebook sales. If your ebook is sold at Apple and any other ebook retailer, you will receive two separate reports.
If there were no ebook sales, you will not receive a compensation report email.
Monthly sales reports will be emailed within five (5) business days of our accounting month-end. Payments are made to the publisher, via direct deposit or PayPal, 90 days from the end of the month in which the sales are reported.
Compensation Payment Schedule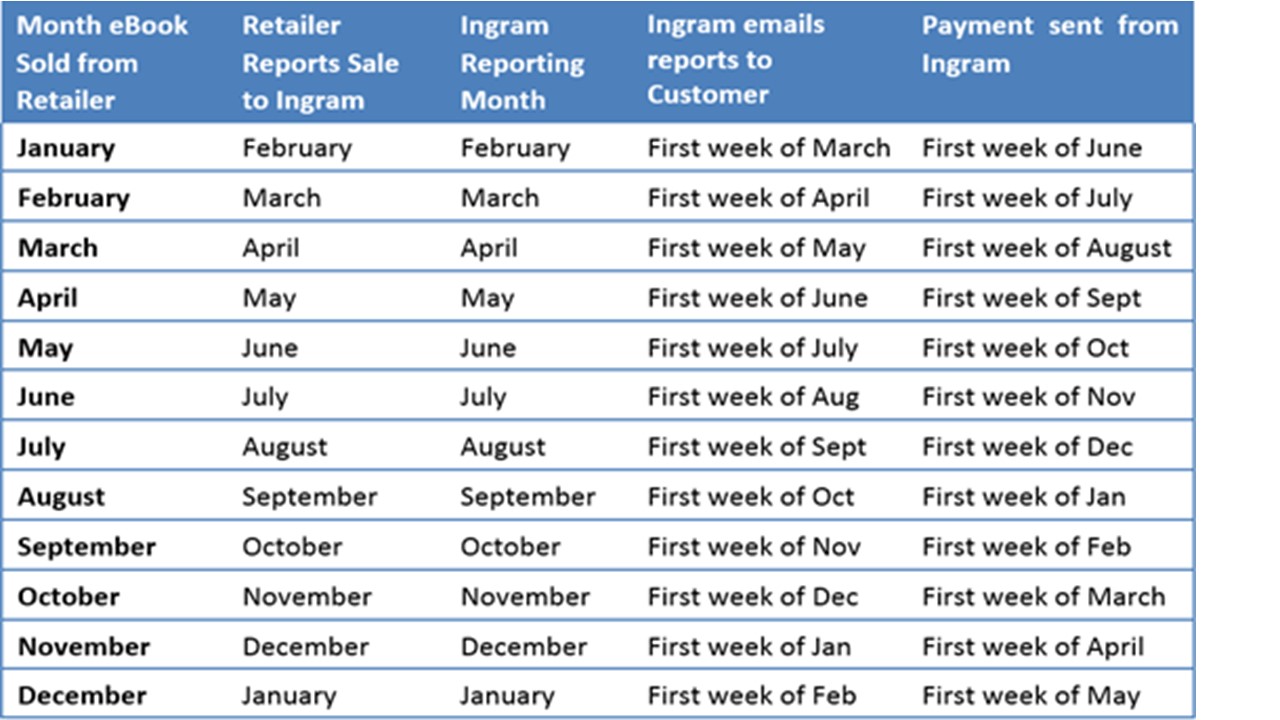 If you have suggestions for improving this new reporting
please leave us a comment!
Click the FOLLOW button to be alerted to updates to this article.