Here's a guide to understanding the various data points available within our customized full metadata reports.
Below is a screenshot of all the columns listed in the Metadata Report when you download it.
Further below is an explanation of the information in each column.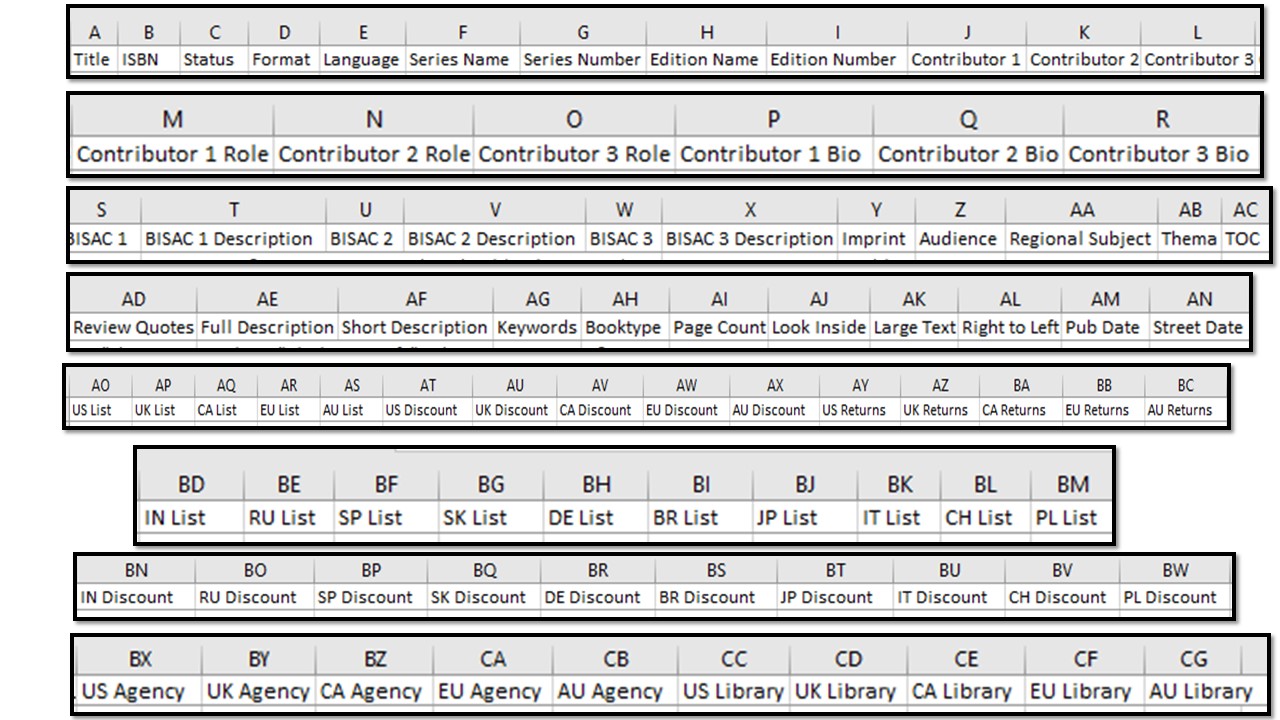 Column A) Title - Name of your book.
Column B) ISBN - A unique 13-digit number provided by your country's ISBN agency and assigned by the publisher to identify a particular format, edition, and publisher of a book. ISBNs are used worldwide as a unique identifier for each book title/format combination. They are used to simplify the distribution and purchase of books throughout the global supply chain. If the number starts with "237" this is an SKU and the title cannot be distributed.
Column C) Status - This column shows the status of your titles.
Column D) Format - The format the book is published in, EPUB, Perfect Bound Paperback, Case Laminate, Jacketed hardcover, etc.
Column E) Language - The language the book is written in.
Column F) Series Name - Specify a series name for titles that feature an ongoing story (e.g. A Song of Ice and Fire), recurring character, or other organizing principles (e.g. Penguin Modern Classics).
Column G) Series Number - If the book is part of a numbered series, you will see it here.
Column H) Edition Name - Used to distinguish materially different manifestations of the same work. Different formats (e.g. ebook, hardcover, mass-market) and reprints of the same content are not different editions. Works with no other revised or special editions need not specify edition information.
Column I) Edition Number - If the book is part of a numbered edition, you will see it here.
Column J-L) Contributor Name - names of authors, illustrators, and others who created the book.
Column M-O) Contributor Role - Contributors job title
Column P-R) Contributor Bio - A brief bio for each contributor, highlighting key information that potential buyers (and searchers) might want to know.
Column S-X) BISAC 1, BISAC 2, BISAC 3 - these are the subject categories you selected for your books.
Column Y) Imprint - the trading name used to identify a line of books or a publishing branch.
Column Z) Audience -
1: Trade General Adult
2: Juvenile Child (0-12)
3: Young Adult (Child 13-18)
4: Elementary/High School (Textbook)
5: College (Textbook)
6: Professional/Scholar (Adult)
Column AA) Regional Subjects - provides information on the primary geographic location of the content of the book, to be used in conjunction with BISAC codes.
Column AB) Thema Subjects - identify the major categories of works, including genre(s), topic(s), and theme(s). Thema Subjects are used internationally by global distributors, aggregators, and retailers.
Column AC) Table of Contents - This is optional. Not all books will have a table of contents. If your book has a table of contents, it will be listed here.
Column AD) Review Quotes - notes of praise for the title and/or contributor(s).
Column AE) Full Description - a detailed description of the book, appropriate for public display, used for marketing, discovery, and sales purposes. The book description drives (SEO) search engine optimization, and it is your best chance to pitch the book and get people interested.
Column AF) Short Description - a brief summary of the book, which may be used in the promotion of your book in the Ingram catalogs and on some retailers and online sites.
Column AG) Keywords - Single words or short phrases that describe your book and help improve search results.
Column AH) Booktype Description - included in this description is the trim size of the book, the binding type and laminate type, interior paper, and black and white or color interior
Column AI) Page Count - Page count is the total number of pages in the book, including blank pages. Page count does not include the cover. inside cover, or end sheets.
Column AJ) Look Inside Y/N - The book's "point of sale sampling". From any book detail page, customers have the opportunity to sample participating books using our Look Inside reader.
Column AK) Large Text Y/N - if the book is a large print or large text edition and you selected this during title setup.
Column AL) Right-to-left Y/N - if your content is meant to be bound and read in reverse (i.e. books written in Arabic that should be read from right to left.)
Column AM) Publication Date - The date on which a retail consumer or library may take possession of a product.
Column AN) On Sale Date - The date to determine when a book may be sold by retail partners. Many of our distribution partners' systems are not set up to recognize the on-sale date. Because of this, make the on-sale date the same as or earlier than the publication date.
Column AO-AS) List Price - The list price or retail price is the stated value for which something is offered for sale through a particular channel such as a showroom, a retail store, a catalog, or a retail, wholesale, or distributor website.
Column AT-AX) Wholesale Discount - This is the discount you offer which is deducted from the retail price of your book. Our distribution partners and wholesalers receive this discount for selling and distributing your book. Depending on the discount you offer, they may pass on a portion to booksellers who purchase the book for reselling.
Column AY-BC) Returns - This column displays the return designation for the title.
Column BD-BW) Global Connect Price - The Global Connect price for your titles is the same as the list price and wholesale discount you set for the US market.
IN = India
RU = Russia
SP = Spain
SK = South Korea
DE = Germany
BR = Brazil
JP = Japan
IT = Italy
CH = China
PL = Poland
Column BX-CB) Agency Price - The price at which Apple sells the title through iTunes. All prices must be in dollar increments that end in .99.
Column CC-CG) Library Price - Publishers selling their ebooks/digital titles in libraries & retail distribution channels now can offer different digital list prices to libraries and retailers.