custom trim size original
You can create your paperback book with your own custom trim size that fits between the measurements provided below and have the book available for sale through Ingram's Global Distribution markets! (Custom trim sizes are displayed in inches only)
For example, books printed on white interior paper can have widths ranging from 4 inches to 8.5 inches (102 mm to 216 mm) and lengths from 6 inches to 11 inches (152 mm to 280 mm).
Custom trim sizes in a landscape format, where the book is wider than it is tall (6" wide x 4" tall/length), are unavailable.
The diagram below lists the available trim sizes within which a customized paperback can be created. For example, you can create a custom trim size paperback between 4x6 and 6x9 or between 6x9 and 6.14x9.252 and would be charged for a small paperback.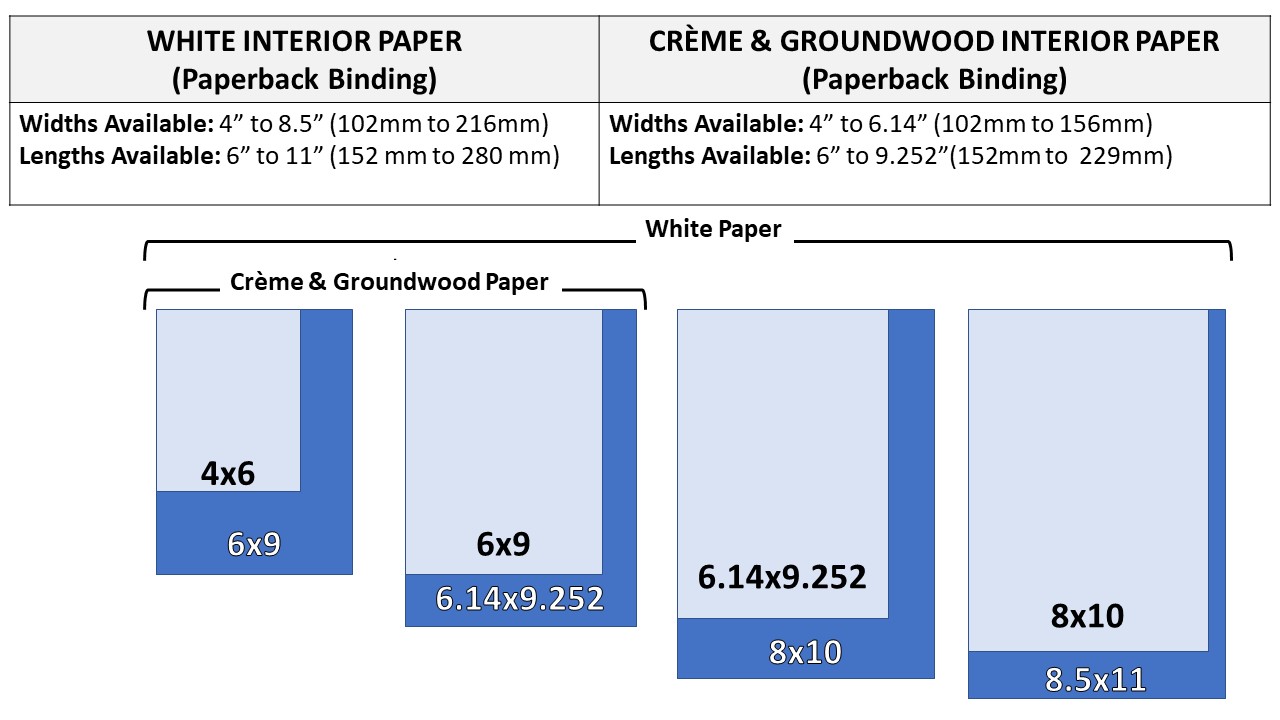 PRINT COST
Use the Print & Shipping Calculator or the Publisher Compensation Calculator to determine the print cost for your book.
Here's some additional information you may find helpful:
If you'd like to print your current book with a custom trim size, you'll need to begin a new title set up and use a new ISBN (or SKU if your book won't be included in our distribution channels).


Note: our website will reflect your book's size as Custom Trim Size until we've received your files, and then you'll see your selected trim size on your Title Information page
You can use our Cover Template Generator to request a cover template made specifically for your new trim size.

There's no minimum order quantity when purchasing your books, so you can order as few or as many books as you need.
Instructions:
Log into your account and add a new title as you normally would.
When you get to the 2nd page of the title setup, where you select the trim size, scroll all the way to the bottom of the trim size list (image below)
Select Custom Trim Size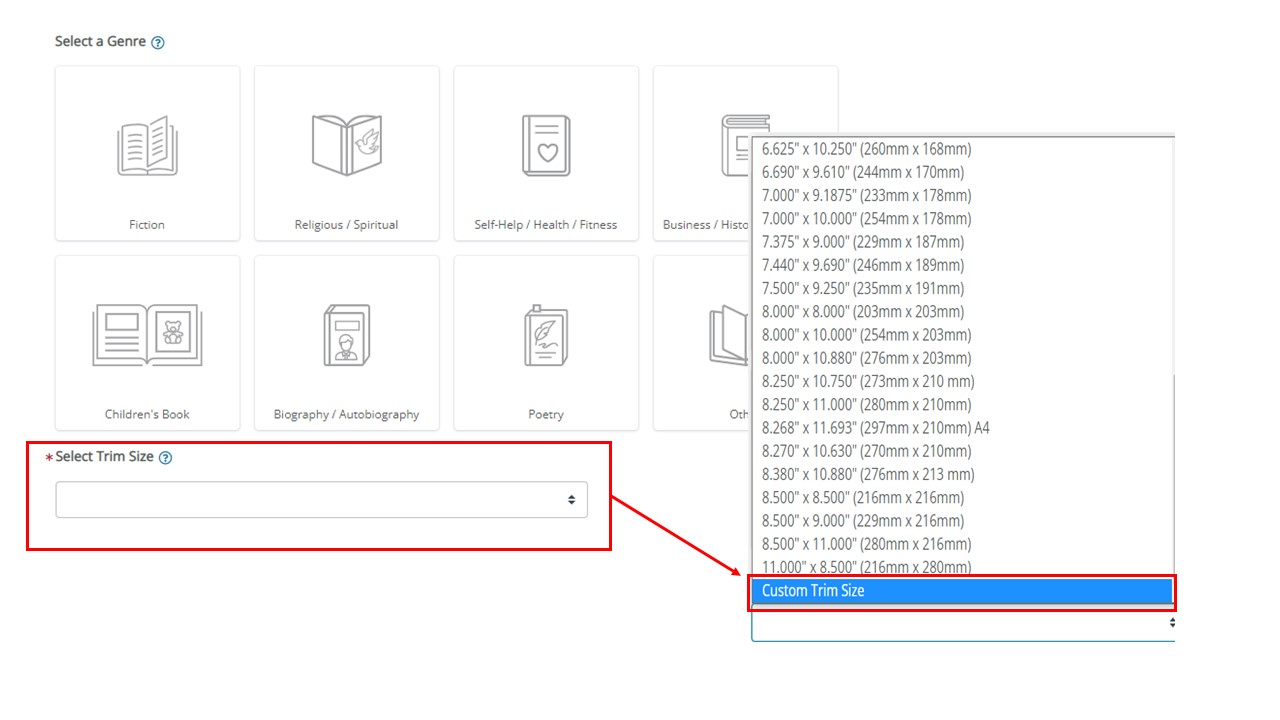 You will now be able to select your paper, binding, and cover finish options.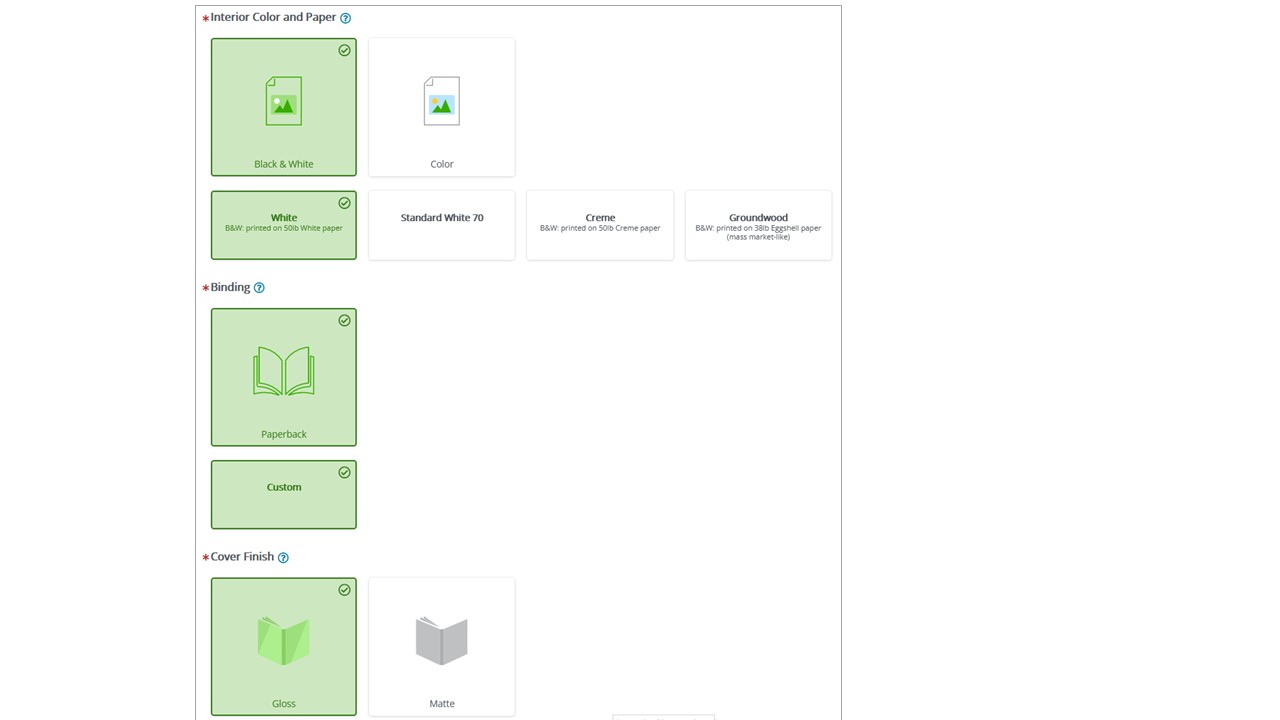 You will then see your booktype selection confirmed and new fields for entering the width and length dimensions of your Custom Trim title. Note: these values can only be entered in inches.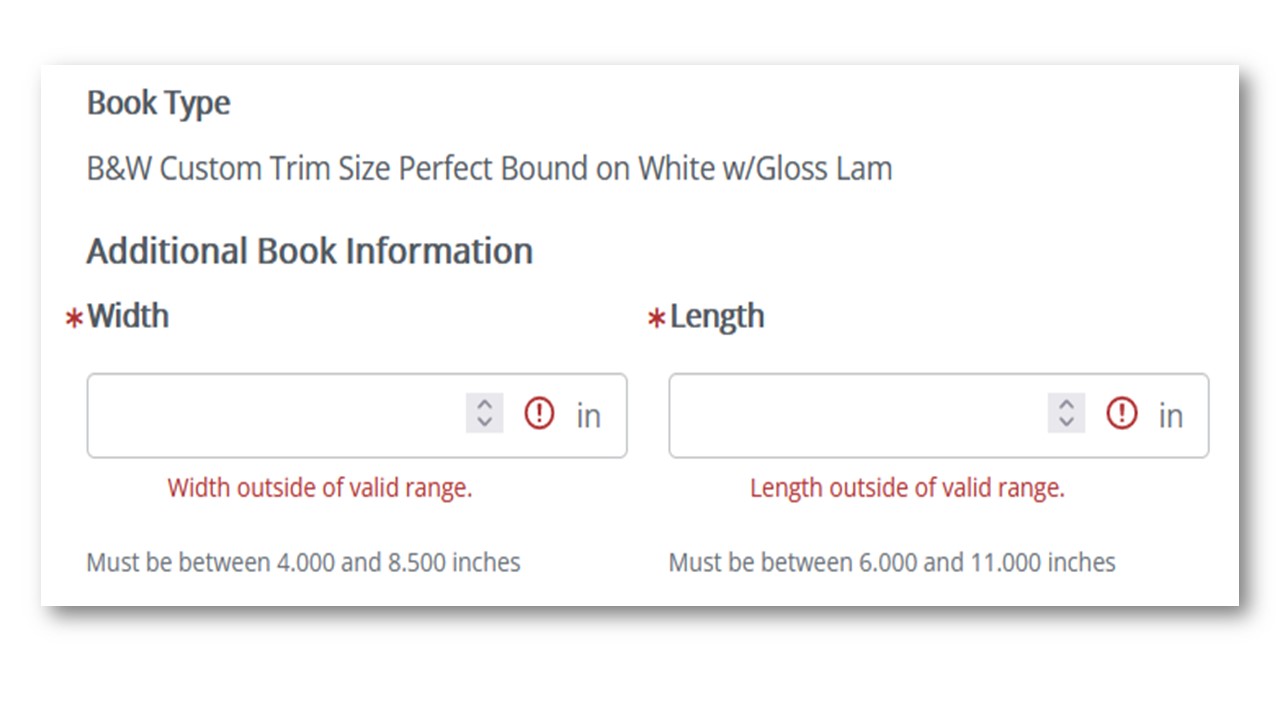 Custom Trim titles are produced in size ranges, and the Width and Length fields have those values built in. A blank or invalid entry in these fields will display an 'outside of valid range' error message.
If you receive an 'out of valid range' error, check your paper selection against the dimensions and ranges listed above; You may need to update your paper choice.
With your Custom Trim width and length dimensions now in place, the rest of the title setup process is the same as when using one of our standard trim size options.