Large Text Editions are designed for readers that are visually impaired. The user of larger fonts and clearer layouts is required for books in this format.
Typically, a font size of 14-18 point would be considered large print. Anything over 18 point is considered giant print. It's also best to ensure there is a strong contrast between the print and the background. For example, using light text on a darker background might be easier to read than using dark text on light background.
'Sans-Serif' fonts are recommended for Large Text Editions since they are plain and easier to read. Serifs are details on the end of some font strokes that can make the letters harder to distinguish. Fonts that do not include these details are called Sans-Serif fonts.
Below are examples of Serif and Sans-Serif fonts, with some of the serifs circled in red.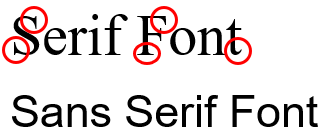 Large Text Editions checklist: if your content meets the high-level criteria on this checklist, it should be well suited to the visually impaired reader:
Use of preferred fonts like APHont, Antique Olive, Helvetica, Tahoma, Tiresias and Verdana
Font size of at least 14 point, preferably 18 point
Adequate word and letter spacing
Left aligned text
Good contrast between text and background
No overlapping between text and images
Additional Large Text Resources
The American Printing House for the Blind
Royal National Institute of Blind People
Alliance of Independent Authors Large Text Blog Post
https://selfpublishingadvice.org/self-publish-large-print-books
The National Library Service for the Blind and Print Disabled
https://www.loc.gov/nls/resources/general-resources-on-disabilities/large-print-materials
Read How You Want
https://www.readhowyouwant.com/About/Index