Via Ingram Book Group, IngramSpark titles are automatically made available to tens of thousands of bookstores, retailers, libraries, schools, and E-commerce companies.
Learn more about other U.S. Distribution Channels: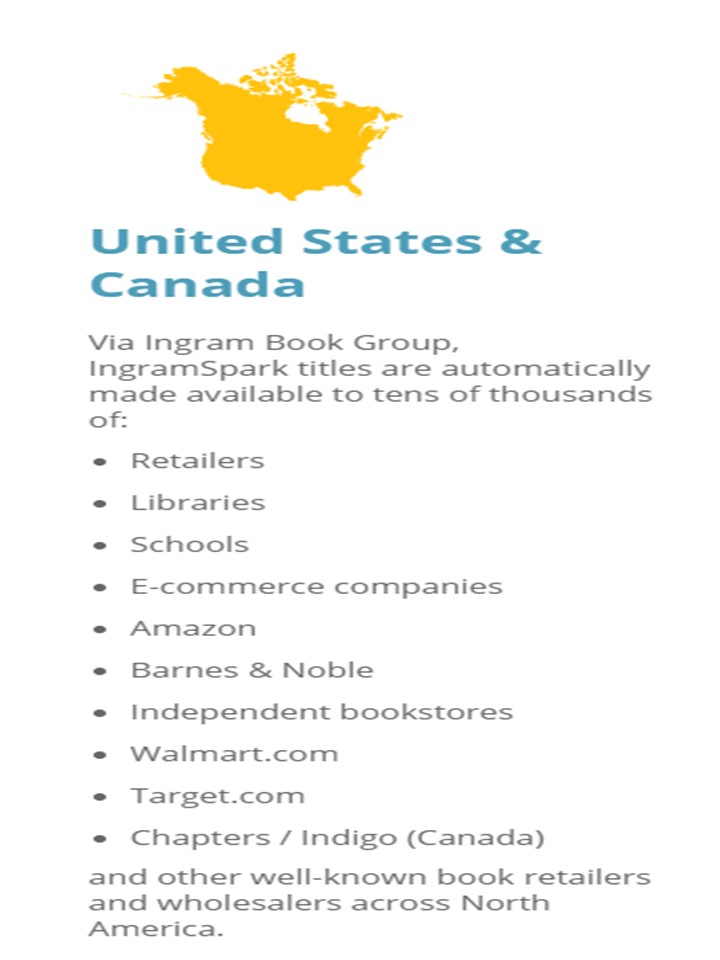 Espresso Book Machine is owned by On Demand Books and is an instore machine that prints, binds, and trims perfect bound, black and white interior books, with a color cover, while the customer waits in the store. Click the following link to view a short video about these machines.
http://www.ondemandbooks.com/ebm_video.php
How can I find out if my book(s) are available through the EBM network?
IngramSpark automatically flags all print titles for the Espresso Book Machine that are placed in the US distribution network. You can see if your book is flagged for the EBM network by logging into your account and accessing your title list. Click on the title you are inquiring about, which takes you to the Title Information page. Click on the Print Info button and scroll down to the Print Options section where you will see ESPRESSO: Y
From the digital files you provide us, these machines can print and bind black and white interior paperback books with color covers on-site, within a few minutes. Trim sizes this machine can print range anywhere from 5" (127 mm) to 10.5" (267 mm) in height and 4.5" (114 mm) to 8.25"(210 mm) in width, containing 40-830 pages. If the trim size for your black and white interior paperback is one of the sizes listed below, your book is available for print through the Espresso Book Machine.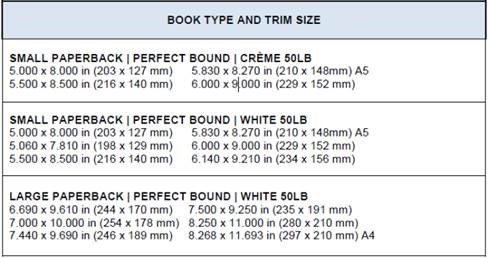 Where are the Espresso Book Machines located?
A list is located here: http://ondemandbooks.com/ebm_locations_list.php
However, IngramSpark can only provide digital files to the machines located in the countries we currently accept pricing for (US, UK, Europe, Australia, Canada, and Global Connect countries). For more information on Global Connect, click here.
We are not able to supply digital files to the machines in places like South Africa, Egypt, or the United Arab Emirates, to name a few.
How much do I earn for books sold through the EBM?
If your book is printed and sold through the EBM network, you will be paid as if it were sold in the US with the US price and discount that you've provided. You earn the same amount for books sold as you do for US sales.
With the Global Connect Program (GCP), Ingram/Lightning Source (LS) entered into an agreement with trusted and vetted printers in international markets, not currently served directly by Ingram/LS, to provide print and distribution services in those markets. Bookstores and retailers in those markets can purchase your book from the trusted printer in their country, saving them overseas shipping fees and providing a quicker turnaround time for them to receive the product. No inventory, shipping, currency headaches, or import/export issues to be concerned about. All sales are non-returnable through Global Connect.
By entering a U.S. retail price and wholesale discount for each title, Ingram will make your titles available in each current GCP Market and any additional GCP Markets as they become available. Participation in any given GCP Market will serve as your permission to distribute the title in that market through the GCP.
The current GCP markets are China, Germany, Italy, India, Poland, Russia, South Korea, and Spain.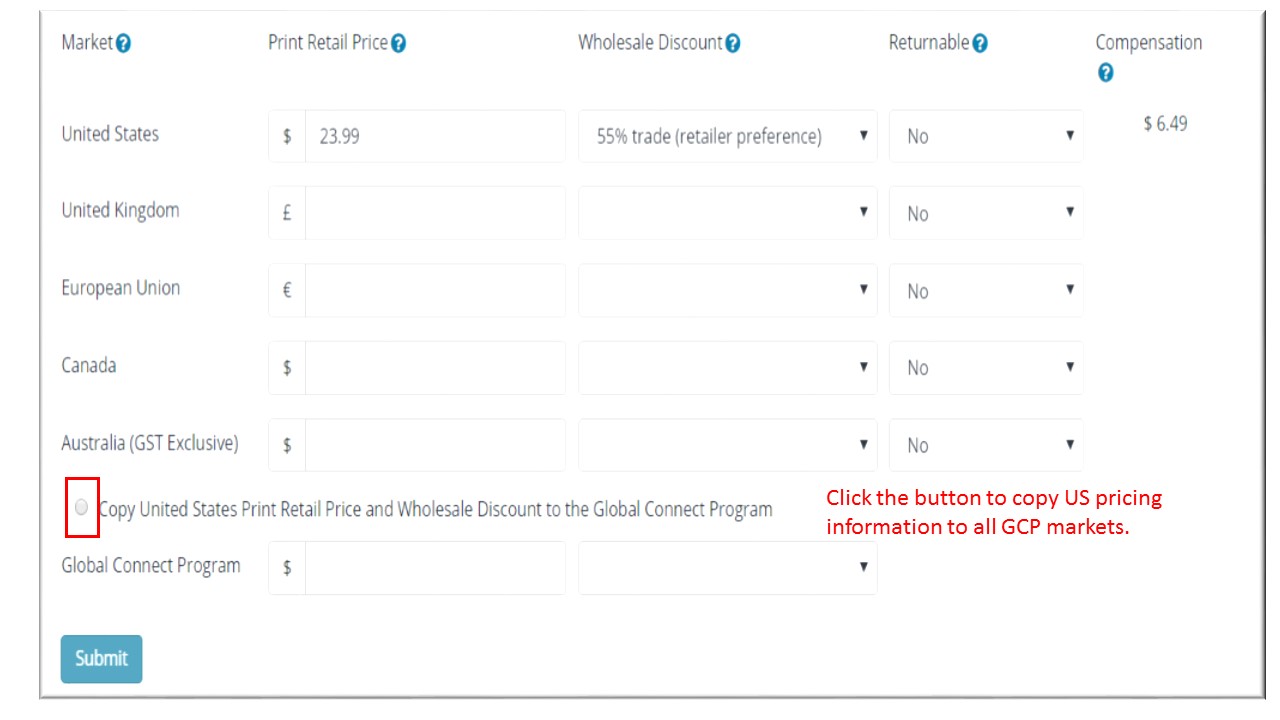 A list of the Global Connect printer partners and the retailers they provide books to is located at the bottom of this article.
Dropship orders are not available through these printers. They only fulfill bookstore and retail orders in their market.
Benefits of Using Global Connect
• Eliminate shipping cost
• Eliminate the guesswork of determining how much inventory to print and ship
• Allows a publisher to add titles they may have been unwilling to offer to the market due to low or unknown sales potential
• Never miss a sale in the market
• Make titles available without dealing with the local printer, file distribution, or currency exchange
• Possible frontlist solution into foreign language markets
You can watch a video with more information about Global Connect here.
FAQs
What currency am I paid in? All payments to the publisher are calculated in US$ and paid in the currency the publisher normally receives. The payment currencies supported today are USD, GBP, AUD, EUR, and CAN. You can add pricing for Canada, however, the compensation earned in Canada is the same amount as what you earn in the US.
Who sets the price in the local market? The publisher provides a price they will be paid for each book in US$ and the printer partner will convert this to their currency, add margin and print cost, and then determine the price to sell the book in their market and in their currency.
Are the books returnable? No, all sales are non-returnable through the Global Connect Program.
How often do I receive reporting? We provide sales reports for GCP sales monthly within the existing US POD publisher comp statements. You can also generate reports from your IngramSpark account. This can be found under Reports, Print sales reports. Select the option for the Global Connect/Espresso report. If viewing online, be sure to deselect the option for POD.
When do I get paid? Payments are made to the publisher 90 days from the end of the month in which the sales are received and reported.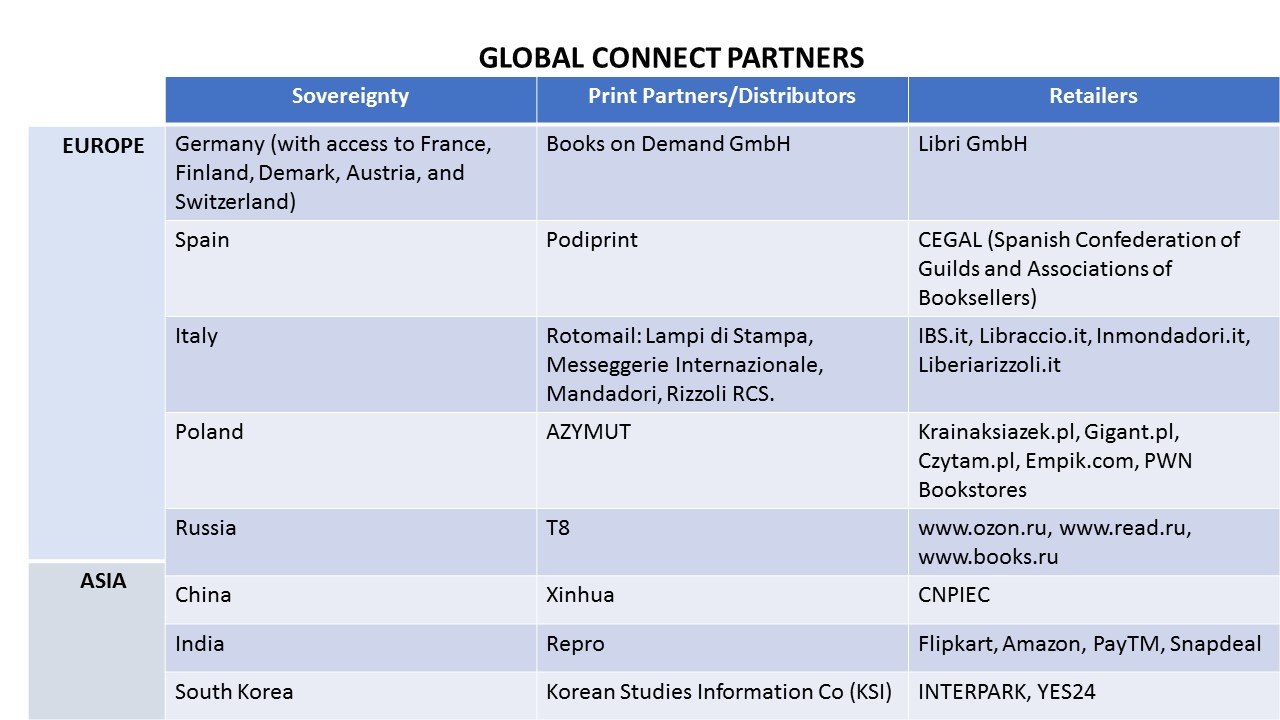 For the most up-to-date list of our Print On Demand distribution partners, visit our website: https://www.ingramspark.com/how-it-works/distribute