royalty earning compensate pay deposit update bank calculate when will it be deposited why haven't I been paid
Learn how compensation earnings are calculated, when compensation payments are made, direct deposit payment options for compensation earnings (bank checking account or PayPal), instructions for updating compensation payment information, and compensation payment schedules for print books and ebooks.
The following is an example of how compensation earnings are calculated, in US pricing:
$21.99 Retail/List Price of the book
-53% Wholesale discount distribution partners receive (not the discount bookstores receive)
$10.34 Wholesale price the distribution partners pay Ingram when they buy the book
-$6.18 Print cost for a 6x9 (229x152mm) 400-page BW Interior paperback book (color cover)
$4.16 Compensation earnings paid for every book sold
**NOTE ABOUT WHOLESALE DISCOUNTS: Bookstores do not receive the wholesale discount you offer. Offering a 53% to 55% wholesale discount in the US (includes Canada) market and 48% to 55% in the UK, Europe, and Australia markets, allows bookstores to receive their normal trade discounts from distributors and wholesalers they buy books from.
IMPORTANT: If you make changes to the list price, discount, or returns option it can have a negative impact on the compensation you receive.
IngramSpark remits compensation payments within 90 days of the month-end reporting period following the sale.
COMPENSATION EARNINGS PAYMENT OPTIONS
USD PayPal - No minimum
USD ACH direct deposit (must be US-based bank) - No minimum
CAD ACH direct deposit (must be Canada-based bank) - Payments are not released until the amount due reaches $25.00.
GBP BACS direct deposit (must be UK based bank) - No minimum
EUR BACS direct deposit (must be EURZONE based bank) - Payments are not released until the amount due reaches $25.00.
AUD BACS direct deposit (must be AU based bank, NO NZL banks) - Payments are not released until the amount due reaches $25.00.
PLEASE NOTE:
Compensation earnings can be deposited to a PayPal account (if available) or a bank checking account. We can not make deposits to bank savings accounts.
Payments are made to the publishing company/business or legal name on the IngramSpark account and it must match the name on the checking account. Payments may be rejected if the name on the account does not match the name on your bank account.
Only one currency and bank account can be applied.
Changes to compensation payments should be applied online by the publisher.
INSTRUCTIONS FOR UPDATING COMPENSATION PAYMENT INFORMATION
Because your compensation payment for print and ebook sales is sent to you via direct deposit (or your PayPal account), it is important to make sure your information is correct and up-to-date. If you need to review or update your direct deposit or PayPal information, you can do this in your IngramSpark account.
Log on to your IngramSpark account
Click the drop-down arrow next to your account name in the top right-hand corner
Select "Publisher Compensation"
Select one currency type for your compensation payments.
Click "Edit" or "Add Compensation Information"
Update or add payment information. Do not use spaces or dashes when entering bank checking account numbers, routing numbers, etc.
Click "Save"
IMPORTANT NOTE: When you activated your IngramSpark account, you provided your bank account information and chose the currency to be paid in, for books sold through our global distribution network. You can update the currency only 1 time.
Compensation Payments for print book sales are paid 90 days after the end of the month in which the sale occurred
IMPORTANT NOTE: You can only update the currency you have chosen to be paid in 1 time.
Print Book Compensation Payment Schedule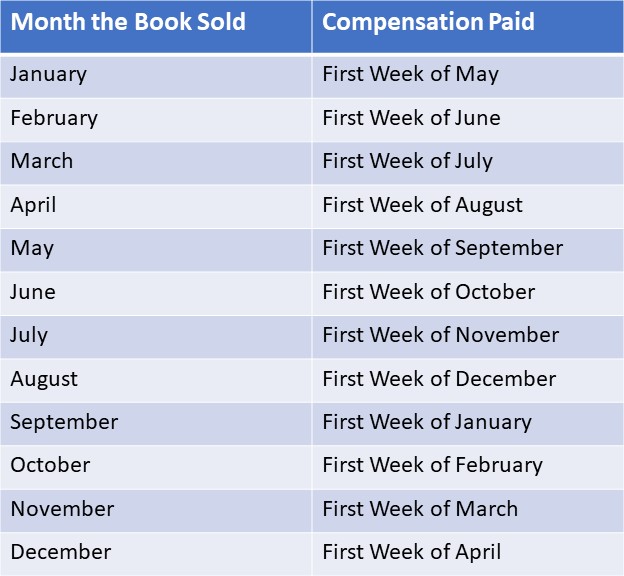 Ebook Compensation Payment Schedule