change update list retail price discount return information edit metadata
How to Change Your Book Information That Appears on Websites
Updating the information about your book is quick and easy on the IngramSpark platform.
IngramSpark will accept up to 500 characters for keywords.
Many retail websites only look at the first 350 characters (includes spaces).
How to Submit a Metadata Revision
Login to your IngramSpark account
Click on the title of your book - this will take you to the Title Information page for the book
Click on the Edit button beside the information that needs to be updated. For example, if you are updating the author name, you will click on the edit button beside About the Author/Contributor
After updating the information, click the Save button or checkmark to ensure your changes are saved
Changes to book information (except price, discount, and returns) are updated and sent to our distribution partners in the next metadata feed, which is usually sent out within 24 hours.
Request the FREE DOWNLOAD of the Metadata Guide to learn more about providing good metadata for your book.
How to Change the Retail Price, Wholesale Discount, and/or Returns Option Your Book
You can update the retail price, wholesale discount, and return status for a book within your IngramSpark account. These changes are now effective weekly.
Cutoff Time for Updates to Pricing
How to Make Changes to or Add Pricing
Changes or additional pricing information for other distribution channel markets should be submitted no later than 11:59 PM U.S. Central Time each Thursday, to have it applied in the Ingram/Lightning Source system the next day, Friday at 12:01 AM U.S. Central Time. The updates are then sent out to all of Ingram's global distribution networks. You will see a "pending" message until the pricing goes into effect in our system on Friday.
To help with converting this cut-off time to your local time zone, you can find a time zone conversion tool here.
NOTE: Due to Daylight Savings time changes happening at different times throughout the world, please always check the time for Nashville, TN, USA, to ensure you don't miss the cut-off time of 11:59 PM U.S. Central Time each Thursday.
HOW TO MAKE CHANGES or ADD PRICING:
You can update the price of your book, wholesale discount, or returns status by logging into your IngramSpark account, clicking on the title of your book, which takes you to the Title Information page, and then click on the Print Info button. Scroll down to the section with pricing and click the edit button to the right. After updating the information click save.
This is the verbiage you will see on your account when you submit a price change:
Update your existing prices or add new markets by selecting a desired effective date from the drop-down list provided and editing the pricing fields displayed below. To remove an existing market please contact your Client Services Representative.
PLEASE NOTE:
If the list price is printed on the back cover of your book, you will need to submit a cover revision for your title in addition to submitting the price change.
If you are changing a title from returnable to non-returnable, booksellers will continue to have the right to return books for a period of 180 days from the date notice is provided to the booksellers, and the publisher will continue to have the obligation to reimburse IngramSpark for the current wholesale cost of the books being returned, plus any applicable shipping and handling charges. If you change a title from non-returnable to returnable, booksellers can return unsold copies of the book, even if the book was purchased prior to the return status change. For more information about returns, click here.
When adding pricing for each market, round up the list price so it ends with .00, .95, or .99 which is more professional looking. As you can see in the example below, this was only done in the United States and Global Connect markets.
If you are promoting your book to bookstores and want to ensure they receive their trade discount when they buy from a wholesaler, offer a 53% to 55% wholesale discount in the US market and a 48% to 55% wholesale discount in the UK, Europe, and Australia. The discount you offer is what our distribution partners receive and is not the discount their customers or bookstores receive.
AUSTRALIA: Compensation earned for books sold in Australia is charged GST before the payment is made to you. Divide your intended Retail Price by 1.1.
The pub comp calculator does not account for the GST on the cost of printing. In order to see what you will actually be paid, you need to calculate 10% on the unit print cost and deduct this from your stated pub comp.
Books have a higher price point in the AU market in comparison with US and UK markets. Do your research and price your book similar to those in your book's genre.
Offering a 53-55% wholesale discount should ensure the intended retail price is honored on online vendor sites.
Here are some things to consider when pricing a book:
Offer your book with a list price that is considered a fair and reasonable price for each market the book is being sold into and the type of content of the book.
Assign a price to your title that conforms to trade standard pricing, ending in .95, .99, or .00 in ALL markets.
Pricing errors do sometimes happen, and titles submitted with a list price greater than 99.00 (USD, GBP, AUD), will be reviewed by the Customer Support management team. If you believe your book is appropriately priced and exceeds 99.00 (USD, GBP, AUD) please contact Customer Support and let them know, so there are no delays with your book.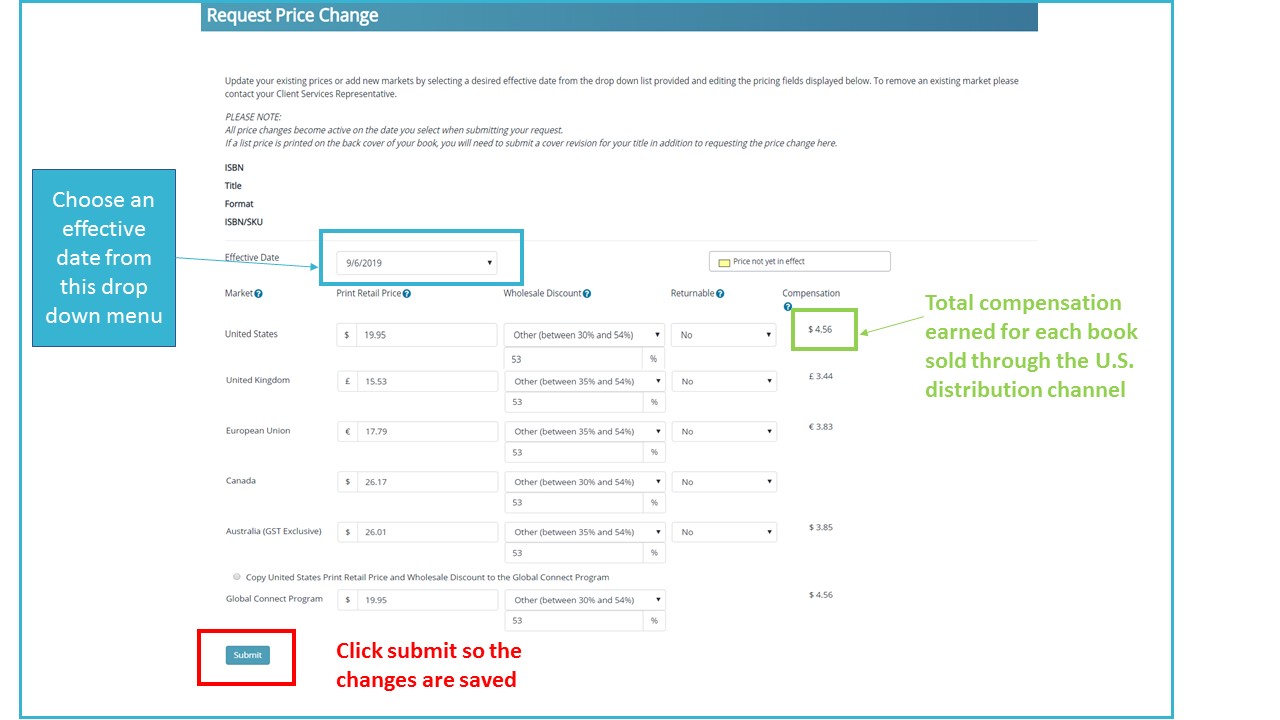 HELP US HELP YOU!
If this article didn't answer your question, please share in the comments section below the problem you experienced or the help you were needing.
Thank you!