defect defective damage claim bent crushed crooked someone else's book replace event deliver skid pallet refuse returned bad books
If you believe there is a problem with a print order you submitted and received, such as a defective or damaged product, please let us know as quickly as possible. You may submit a claim by following the steps further below.
If you are contacted by someone who received a damaged or defective copy of your book from one of Ingram's retail partners or a distribution partner of ours, they should return the book back to the business they purchased it from for a refund or replacement.
If someone purchases a copy of the book from you, the book should be returned to you for a refund or replacement and you will work with the IngramSpark support team to resolve the problem.
It doesn't happen often but, minor manufacturing defects can occur during the manufacturing process of your book. Below is a list including, but not limited to, defects that when minor, are not considered to make a product unsaleable:
Cover scratches
Smudges in the lamination (This is the glue that can be wiped off with a damp cloth)
Dents
Inkspots
Folded pages
Lamination creases or scored hinges
Gutter read marks
However, if you feel the book is not in good condition and you or the consumer are not happy due to a defect or damage, IngramSpark support will do their best to resolve the situation as quickly and efficiently as possible, with all parties satisfied with the end result.
Incorrect Address or Refusal of Shipment
Shipping Issue With a Large Order Delivered on a Pallet/Skid
Submitting a Claim - All claims should be reported within 90 days of receipt.
1. To report a claim through your IngramSpark account, Click on the link for ORDERS and then click on the link for SUBMITTED. This will take you to a list of the orders you have submitted for printing. Click on the order number to pull up the Shipment Details page. From here, click on the REPORT AN ISSUE button located to the far right of the page. The Report an Issue button is available for 90 days after an order has shipped. See the image below: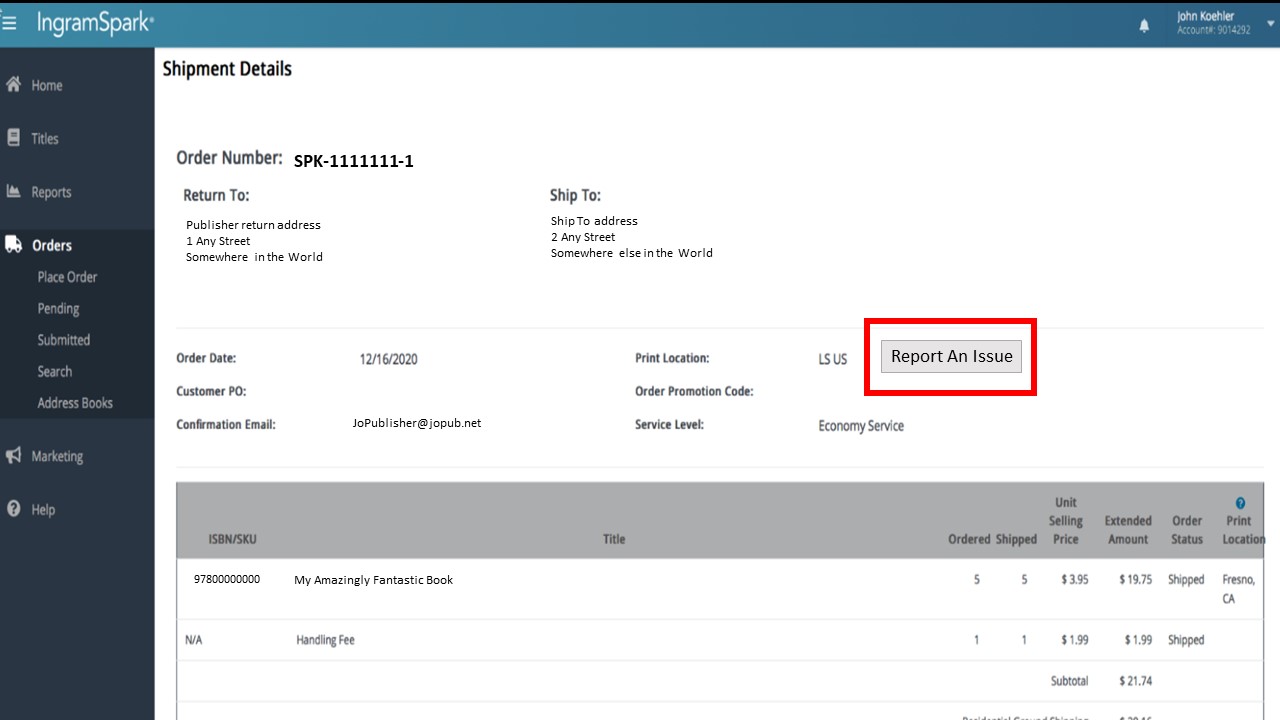 2. Once you click Report an Issue, you'll see the page shown below. If there is only 1 title in the order, it will be automatically selected for you. You will also be required to add information about the claim in the NOTES field.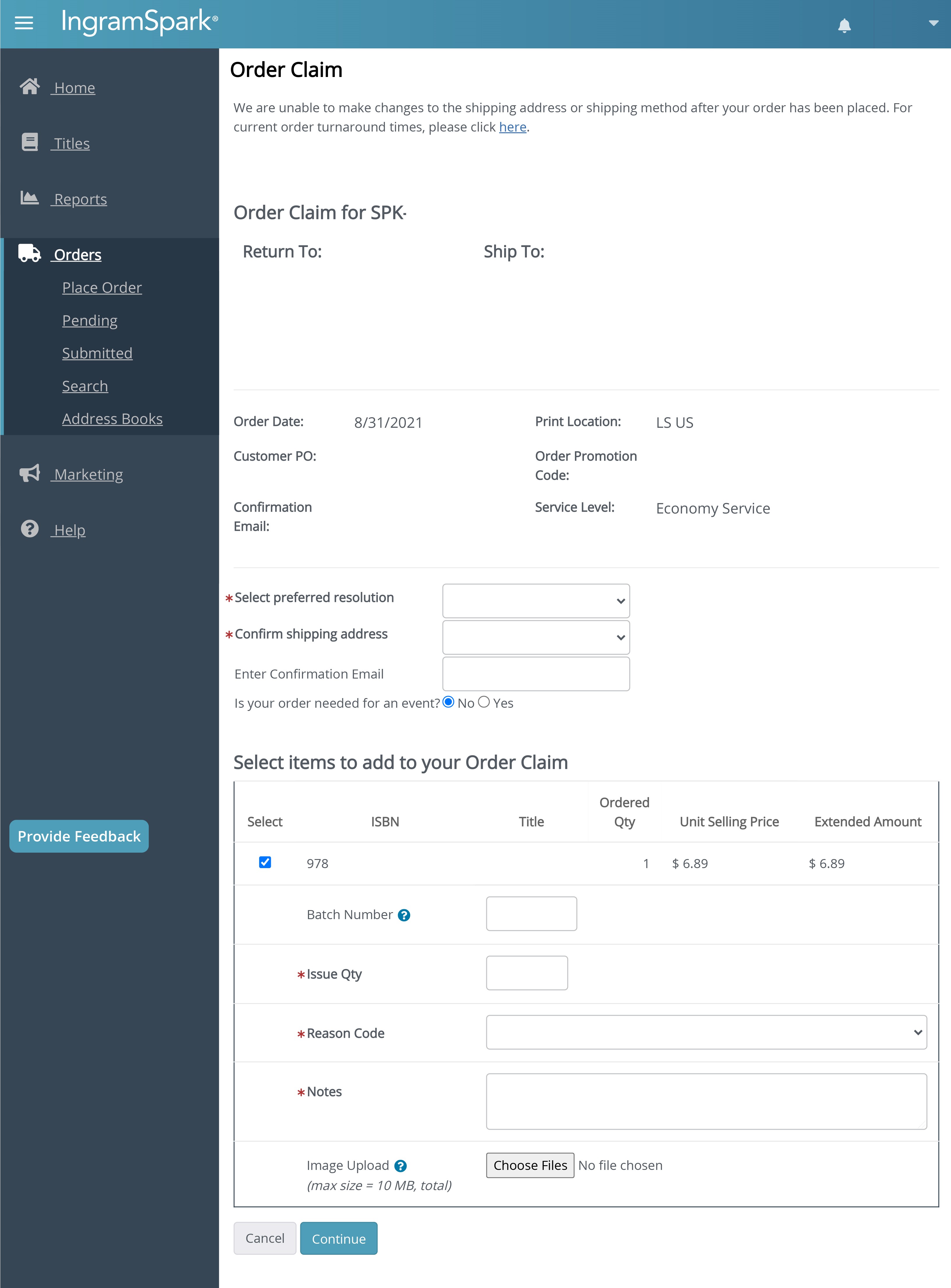 NOTE: Be sure to take photos of damaged or defective books and cartons. Upload and save the photos to your computer so you can upload the images using the CHOOSE FILES button shown in the image above.
3. In order for our support team to accurately review your request, you'll be asked to provide the following information: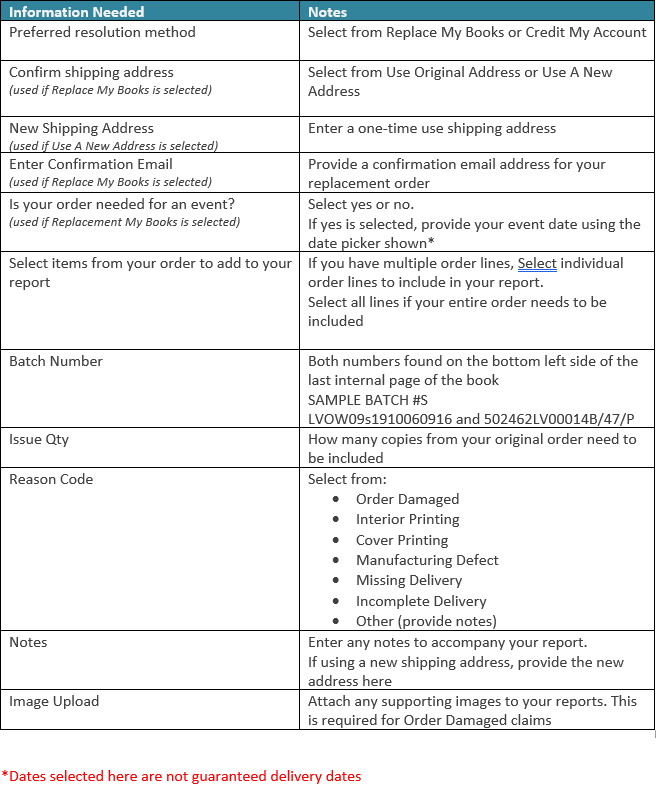 IMPORTANT: We will do our best to have the replacement order for your event on time, however, we cannot guarantee this. It depends on how much time there is to rush the printing of the replacement order and the expedited delivery options available to the event location.
If at all possible, it's best to place an order for the books you need, so you receive the order one to two weeks in advance of an event. Please check the home page of your account for current print turnaround times in the Business Update section.
If you select the Use A New Address option, you'll be asked to enter a one-time shipping address for your replacement order.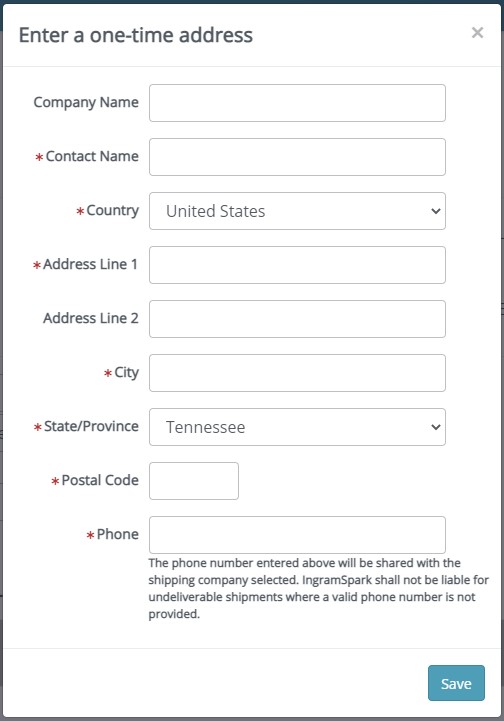 4. Once you've completed all required information, click the Continue button at the bottom left side of the screen. You'll then be able to review your order report as shown below.

5. If you're happy with your order report, click the Submit button to send the report to our support team.
Our support team will review your order report and contact you within 3-5 business days.
If there is a shipping issue with your order, keep the boxes and provide photos, which you will upload during this process (see image upload button).
For large orders delivered on a skid (or a pallet):
Inspect the skid for any type of transit or forklift damage.
If you see any damage to the cartons or skids, sign the freight receipt noting the skids are damaged and describe the damage such as forklift holes in cartons or corner of cartons/skid is crushed from transit damage.
If time permits, open the cartons and count and note the number of damaged books. If the driver will not wait, note on the receipt there is transit damage and sign it stating an inspection is required to determine the extent of the damage.
Check the extent of damage to get a count of the damaged books. When that is done, provide images, as described above, and the number of damaged books (using the claim form) and we will file a claim for the damages with the carrier.
If the freight receipt is not signed as damaged and requesting an inspection, it is impossible to get a claim accepted by the carrier.
Viewing a Claim Replacement Order
You can view claim replacement orders in your account. Because we submit replacement orders internally, it will not appear in the "Submitted Orders" section with your other orders; however, you can see the claim replacement order if you click on "Search for Orders." If you have search criteria, you can enter the information, or you can just click on "Search" without entering any search criteria. Replacement orders typically begin with "RO-xxxx" and will appear in the order list.

What if my order is returned to Ingram?
Lightning Source/IngramSpark only accepts and processes returned shipments of books delivered to our print facilities, where the original shipment was unable to be delivered as addressed, or the customer refused delivery. It is the publisher's responsibility to confirm delivery, return, or refusal.
If a package is routed back to Lightning Source/IngramSpark due to an incorrect address or refusal, Lightning Source/IngramSpark will hold the package for five (5) scheduled business days for the publisher to provide disposition (delivery arrangements). Lightning Source/IngramSpark is not responsible for packages remaining at our facility after 5 business days, except where the publisher has provided Lightning Source/IngramSpark with the disposition of such packages during this five-day period.
Lightning Source/IngramSpark assesses shipping fees per returned shipment.
Books shipped by the publisher to their customer, which were received by their customer, must be returned directly to the publisher and not returned to Lightning Source/IngramSpark. The publisher should submit a claim form, if needed, and provide their customer's address for the replacement book if requested.
If a publisher's customer ordered a book online or purchased from a bookstore and found the book defective or needing to be returned for some reason, the book should be returned to the retailer where it was purchased. The retailer will handle the returns and replacement process.
HELP US HELP YOU!
If this article didn't answer your question, please share in the comments section below the problem you experienced or the help you were needing.
Thank you!